---
Hurricane Florence
As of October 24th, Airlink was supporting 171 volunteers across 15 nonprofit organizations. To date, Airlink has worked with four airline partners, including Signature Lead Partner United Airlines, to move the responders into North Carolina and surrounding states. 
Although the storm has passed, Airlink continues to support partner travel to quickly meet the needs of locals affected by the excessive rains.
See our latest piece on the Florence effort, highlighting a passionate volunteer who herself has been affected by disaster. 
Monday, October 8 Update - 
Airlink is now supporting volunteers for partner Mennonite Disaster Services.  
Friday, September 21 Update - 
Two more partners join Airlink's Hurricane Florence response efforts. Airlink, with support from United Airlines and JetBlue, is now supporting 23 Team Rubicon volunteers bringing our total volunteer count to 85. 
Read Airlink's latest piece on the Hurricane Florence response. 
Thursday, September 20 Update - 
Airlink is currently mobilizing responders across 12 humanitarian organizations in response to the devastation wrought by Hurricane Florence.
"One can't help but be moved by this storm's impact on not only property but people's lives. Those affected by Hurricane Florence will forever be changed by this event," says John Ricketts, Feed the Children Disaster Services Manager.
The 50+ Airlink-supported responders now on the ground are serving relief efforts across North Carolina. Medical professionals are providing care, emergency responders are joining local teams in rescue efforts, clean up crews are clearing debris, and mass feeding organizations are serving up hot meals to responders and residents alike.
Feed the Children, Operation BBQ Relief, and World Central Kitchen are feeding tens of thousands of people impacted by the storm, while groups like Mobile Medics International, Empact Northwest, and Global Outreach Doctors support rescue and medical efforts. 
"The situation is grim, but people are holding up well here," says Mobile Medics International volunteer Sean Burns, a swift water rescue certified EMT. Burns is working alongside local EMT teams in Riegelwood, NC, which is currently cut off by flood waters.
More than 35 inches of rain have fallen in some areas of the US East Coast region, killing at least 37 people and prompting an estimated 2,000+ rescues and emergency evacuations. Billions of dollars in estimated property damage could put Florence in the record books as one of the costliest storms in the US. Meeting that damage head-on, partners All Hands and Hearts, Mercy Corps, ToolBank USA, and Heavy Equipment Response Coalition are hard at work assembling teams, assessing damage, and clearing debris.
"With the great support from Airlink, All Hands and Hearts has been able to mobilize quickly on several responses, this one included, and begin serving the community as soon as possible," shares the All Hands and Hearts team stationed in New Bern, NC.
"A storm like Florence creates a wide array of needs in affected communities and because they are themselves recovering, locals don't have the resources to respond," explains Airlink Humanitarian Programs Manager Stephanie Steege. "The range of expertise of our responding partners, and the scope of their impact, illustrate how many people and talents are required in an effective, coordinated response."
"This response is especially challenging due to the rural nature of the areas affected; responders are stretched thin ensuring they can serve not only the cities affected by flooding, but also those who are more isolated," Steege adds.
Airlink continues working with its airline and nonprofit partners to coordinate further response efforts in North Carolina, potentially sending dozens more responders into the area in the coming weeks.
Tuesday, September 18 Update - 
Airlink's response efforts to Florence continue. To date, Airlink is supporting 45 responders with 11 nonprofit organizations.
Alaska Airlines also joins the response effort, supporting flights for ten Empact Northwest responders. 
On Tuesday, World Central Kitchen served its 80,000th meal in the response. 
Feed the Children volunteers continue to move through North Carolina to affected communities. 
"Feed the Children's Rapid Response Team was on the ground yesterday at First Christian Church helping hundreds of families by distributing food, personal care items and supplies in Fayetteville, North Carolina. After the distribution event, our team visited local shelters and provided essentials and snacks to an additional 200 people.Plans are being made to send relief supplies to Greenville, NC to support the following areas: New Bern, Belhaven, Bath, Washington and Kinston." - Feed the Children Situational Report.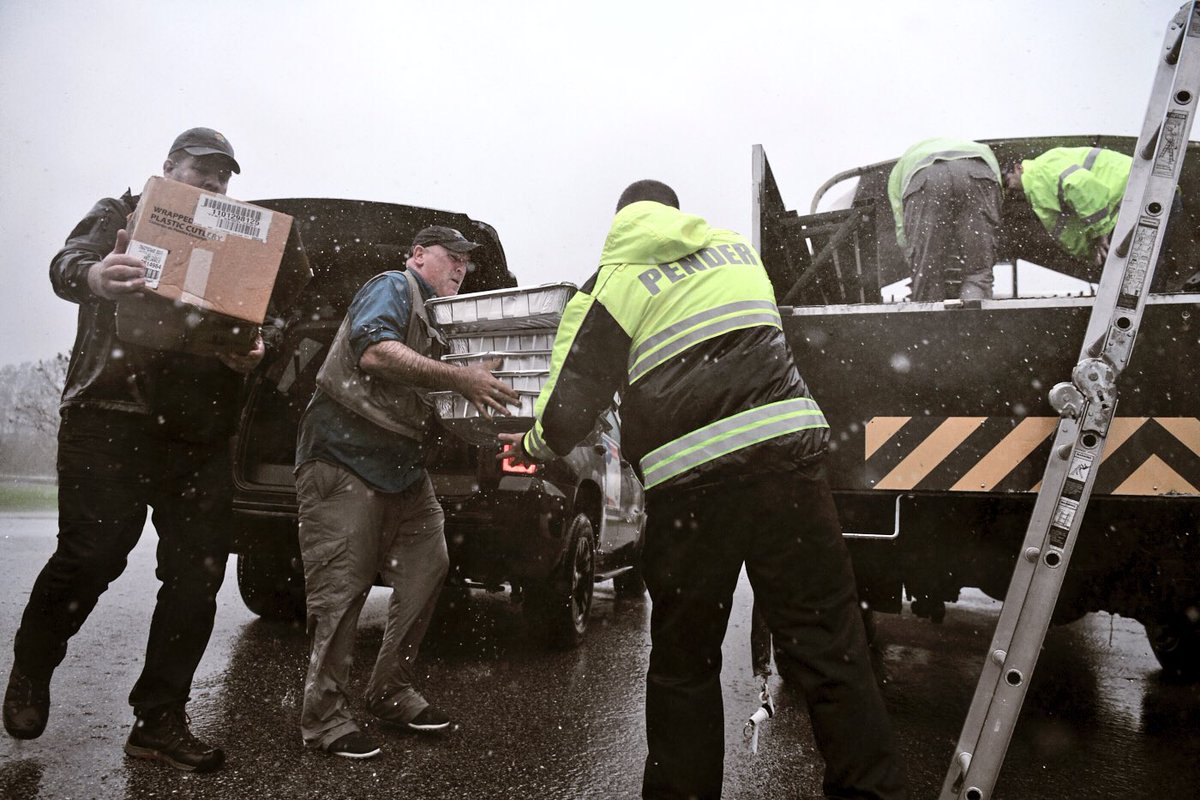 (Photo: Alex Austin/World Central Kitchen)
Sunday, September 16 Update - 
Airlink is now supporting responders with World Central Kitchen and Heavy Equipment Response Coalition, bringing our total supported flights to 28.

Now Tropical Depression Florence, the storm is continuing to drench North Carolina and parts of South Carolina. Rescue operations continue as residents are trapped by dangerous flood waters. 

Airlink, with help from Signature Lead Partner United Airlines, has been able to send medical professionals, clean up crews, rescue team members, and meal support for locals and emergency responders, 
Saturday, September 15 Update - 
Airlink has supported 25 volunteer responders so far. 
Partner Spotlight:
Airlink partner Mobile Medics International (MMI) team lead Sean Burns was one of the first on the ground ahead of the storm.

"We sent Sean specifically because he is multi-disciplined and could assess what is needed," says MMI Founder Teresa Gray.
Sean is a medic and swift water rescue certified, making him an ideal responder to have in North Carolina as residents face Florence's prolonged rains and dangerous winds. 
"He said he could be on a plane as soon as I could get him a flight. He was on a plane 14 hours after I asked him to go… Airlink makes that possible," Gray said.
MMI works with local officials to determine hard to reach areas in need of medical support. Sean and Teresa are both in position now, bringing emergency medical aid to people hurt in the storm.
Friday, September 14 Update - 
Hurricane Florence made landfall in North Carolina early Friday morning as a Category 1 storm. 
As many as 200 people have already been rescued from coastal areas as powerful storm surge and freshwater flooding persist. 
Airlink is now supporting six humanitarian partners - new partner Feed the Children, along with All Hands and Hearts, Mobile Medics International, Global Outreach Doctors, Operation BBQ Relief, and Save the Children are on the ground with more volunteers arriving over the weekend. 
Airlink continues to work with partners, coordinating agencies, and North and South Caroling state VOADs to determine the most effective response. 
Wednesday, September 12 Update - 
As Hurricane Florence approaches the East Coast, it's path has shifted slightly to include more of the South Carolina coastline than originally predicted. Mandatory evacuations are in place down the coast, prompting two million to move inland. The Category 4 storm is projected to make landfall by Friday. 
Airlink and United Airlines continue to partner in sending volunteers ahead of the storm. As of September 12th, Global Outreach Doctors, Mobile Medics International, Operation BBQ Relief, and Save the Children had one or more volunteers on the ground through Airlink coordinated flights.
Airlink continues to monitor the situation and work with partners to mobilize responders in response to Hurricane Florence.
Tuesday, September 11 Update - 
Airlink, in partnership with United Airlines, is sending an Operation BBQ Relief volunteer scout to Charlotte, North Carolina to assess the area and pre-position equipment for OBR's response. 
Original - 
In the peak of hurricane season, category 4 Hurricane Florence is on track to hit the East Coast of the US on Thursday September 13. The storm could shift to a category 5 storm before making landfall, bringing devastating winds speeds and rainfall. Above average precipitation across the region in the past few weeks has resulted in high rivers and water tables, these conditions are expected to exacerbate inland flooding.
States of Emergency have been declared as far north as Washington DC and 1 million people along the coast line have begun mandatory evacuations. 
Airlink is monitoring the storm and working with its partners to preposition relief supplies and responders.