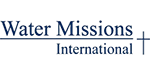 Water Missions International
Water Missions International is a nonprofit Christian engineering organization providing sustainable safe water and sanitation solutions for people in developing countries and disaster areas.
Safe water is the source of life. It is the foundation for health, education and viable economies. Through the generous support of individuals, churches, our corporate partners and many others, Water Missions International has brought relief and hope to more than 2.4 million people across the globe.
Our faith and belief in the sanctity of life compel us to develop and implement the best technologies and community development programs so God will be honored and glorified through our work.
visit the Water Missions International website
---
Missions