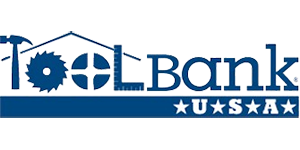 Toolbank USA
ToolBank USA establishes ToolBanks and provides support to affiliates who improve their communities by equipping volunteers with tools. ToolBank Disaster Services, a program of ToolBank USA, equips charitable organizations with the right tools to maximize volunteer impact during disaster response and recovery by deploying a mobile ToolBank. 
Literally a 'ToolBank on wheels', the 53-foot long tractor trailer is stocked with over 5,000 tools, ready when a disaster strikes and for use by volunteer-based organizations providing front-line response and recovery services. ToolBank tools are commonly used for demolition, mucking, clean-up, debris removal, and personal protection. 

ToolBank tools are free to borrow, if returned on time and in working condition. Tools may be borrowed up to 8 weeks, depending on the length of deployment. The length of the deployment will vary, based on the type and intensity of the disaster and the engagement level of borrowing agencies on the ground. The ToolBank Disaster Services mobile unit can be deployed in support of any type of disaster, in the continental United States.
visit the Toolbank USA website
---
Missions