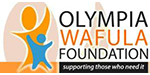 Olympia Wafula Foundation
Our vision is to promote healthy living solutions for differently able and disadvantaged people with special emphasis on education and advocacy to empower and enrich their lives through social inclusion. This will be achieved though an exchange of experiences and ideas.
To act as a resource for people with a disability living in Essex and beyond by providing advice and assistance, and organising programmes of physical education and other activities, (exchange programmes, support groups etc) as a means of:
Advancing in life and helping people who are differently able by developing their skills and capabilities to enable them to participate in society as independent individuals.

Advancing education.

Relieving unemployment.

Providing recreational and leisure time activity in the interests of social welfare for people living in the areas of benefit who have need by reason of their youth, age, infirmity or disability, poverty or social and economic circumstances with a view to improving the conditions of life for such persons. 
visit the Olympia Wafula Foundation website
---
Missions