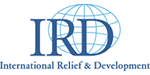 IRD
IRD improves lives and livelihoods through inclusion, engagement, and empowerment. We build lasting relationships and strengthen our beneficiaries' capabilities to create sustainable change and direct their own development.
These principles are at the core of IRD's mission: to reduce the suffering of the world's most vulnerable groups and provide the tools and resources needed to increase their self-sufficiency.
Since 1998, IRD has provided more than $3 billion in humanitarian assistance. To the communities we serve, that means more hospitals and medicines to heal, schools to educate, safe water to drink, roads to provide access to markets and healthcare, homes to provide safe havens, training to foster vocational skills, and jobs to put food on the table.
visit the IRD website
---
Missions