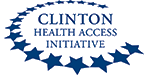 Clinton Health Access Initiative
CHAI was founded in 2002 with a transformational goal: help save the lives of millions of people living with HIV/AIDS in the developing world by dramatically scaling up antiretroviral treatment.
When CHAI was founded, many viewed this goal as unreasonable because health systems in poor countries were too weak and prices of relevant drugs and diagnostic tests were too high.CHAI played a leadership role, working alongside governments and other partners, to lower the costs of treatment and help build the in-country systems necessary to provide lifesaving treatment to millions of people. Since then, CHAI has pursued several similarly ambitious goals, from scaling up pediatric AIDS treatment in order to achieve equity with adults in a timeframe few thought possible, to rapidly accelerating the rollout of new vaccines. CHAI has achieved many of its most important successes when seeking to fundamentally change the way the world approaches an issue and pushing the boundaries of what is considered feasible in global health.
We are driven by a set of values that are fundamental to our work and that support our change-oriented agenda.
CHAI doesn't implement stand-alone programs, nor does it build parallel health systems. Rather CHAI works at the invitation of governments to strengthen and sustain their own capacity to provide long-term healthcare to their citizens. In South Africa, for example, CHAI is supporting the government to expand antiretroviral treatment to more than 2.3 million people and to test over 15 million people for HIV in the next two years.
visit the Clinton Health Access Initiative website
---
Missions