---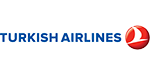 Turkish Airlines
Turkish Airlines began its journey in 1933 with just 5 airplanes. Over the years that fleet has now grown to number over 200 aircraft, but the company manifests the same passion and enthusiasm for service and quality that were present at its inception. THY now has the youngest fleet in Europe and with upcoming aircraft orders, will further reduce the age of the fleet while continuously upgrading service quality.
 
The new vision for THY adopted in 2003 is still in progress, and despite the globally destructive effects of recent economic difficulties, this decade of investment is now yielding positive results, in terms of both passenger numbers and profitability, as well as the establishment and continued expansion of the world's most comprehensive route network. THY is still growing.
 
In addition, Turkish Airlines is experiencing significant recognition in terms of service quality. Skytrax, a site which registers customer evaluations, has bestowed many awards on THY in recent years.  Beginning in 2009, THY has continuously been ranked as the best airline in Europe through 2011. It has also been designated the best airline in Southern Europe over the same three-year period. Additionally Turkish Airlines repeatedly appears in the top 10 group in other categories; cabin and seat quality as well as catering. By every measure, Turkish Airlines' passengers continue to recognize it as one of the world's best airlines. As a result, THY is ranked as a 4-star airline, a member of a small and exclusive group of carriers to gain this designation.
 
Since April 1st, 2008, THY has been a member of the world's largest airline group, Star Alliance, adding even more benefits to those traveling on Turkey's rising star.
visit the Turkish Airlines website
---
Missions