---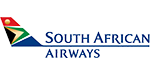 South African Airways
South African Airways (SAA), Africa's most awarded airline, operates to 42 destinations worldwide.
In its domestic market SAA has an extensive schedule operating 660 flights in total per week between Johannesburg – Cape Town, Durban, East London and Port Elizabeth, from its Johannesburg hub, as well as code-shared flights between Lanseria – Cape Town and Durban. SAA offers more frequencies than any other airline in South Africa.
Regionally, SAA offers 26 destinations across the African continent including Abidjan, Accra, Blantyre, Brazzaville, Bujumbura, Cotonou, Dakar, Dar es Salaam, Douala, Entebbe, Harare, Kigali, Kinshasa, Lagos, Libreville, Lilongwe, Livingstone, Luanda, Lusaka, Maputo, Mauritius, Nairobi, Ndola, Pointe Noire, Victoria Falls and Windhoek.
SAA's international network creates links to all major continents from South Africa through 10 direct routes and code shares, with daily flights from Johannesburg to London (Heathrow), Frankfurt, Munich, Mumbai, Perth, Hong Kong, Beijing, New York, Washington, and Sao Paulo. SAA has codes share agreements with 27 other airlines across the markets it serves. SAA's core business is the provision of passenger airline and cargo transport services together with related services, which are provided through SAA and its four wholly owned subsidiaries: SAA Technical; Mango its low cost carrier; Air Chefs, the catering entity of SAA and South African Travel Centre (SATC).
SAA is a Star Alliance member which offers more than 21,900 daily flights to 1,328 airports in 195 countries. SAA is the winner of the 'Best Airline in Africa' Award in the regional category for eleven consecutive years. Mango and SAA hold the number one and number two successive spots as South Africa's most on-time airlines.
visit the South African Airways website
---
Missions