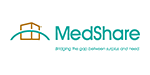 MedShare
MedShare is a nonprofit organization dedicated to improving healthcare and the environment through the efficient recovery and redistribution of the surplus of medical supplies and equipment to those most in need. We collect surplus medical supplies and equipment from hospitals, distributors and manufacturers, and then redistributes it to qualified healthcare facilities in the developing world. We also outfit medical missions and safety net clinics in both the U.S. and abroad.
visit the MedShare website
---
Missions
Hurricanes Irma and Maria
As food and water shortages, lack of medical supplies, and damaged infrastructure plagued Caribbean communities hard hit by hurricanes Irma and Maria, Airlink, LIFT, Patient Airlift Services (PALS) and Rescue Global teamed up to deliver large amounts of humanitarian aid to those in need.
Operation Airlift Caribbean partnership worked with commercial air carriers, general a…
Visit the Hurricanes Irma and Maria page
---
South Asia Floods
Torrential monsoon rains this summer caused flooding and landslides in Bangladesh, India and Nepal. The UN Office for the Coordination of Humanitarian Affairs (OCHA) states nearly 41 million people in three Asian countries were affected.
Tens of thousands of houses, schools and hospitals were destroyed and scores of people have been displaced. Damage to roads, bridges, railways and airports ren…
Visit the South Asia Floods page
---
Hurricane Matthew
Beginning in the days before the hurricane, Airlink experienced high demand for transportation assistance from its NGO network, as both relief personnel and aid materials were needed to address the crisis. Together with Avianca, Copa Airlines, JetBlue Airways, and United Airlines, Airlink helped deploy 39 personnel on Disaster Assistance Response Teams (DARTs), groups of relief personne…
Visit the Hurricane Matthew page
---
Ecuador Earthquake
Overview
A 7.8 magnitude earthquake struck Ecuador on the evening of April 16, knocking down buildings, destroying roads, and creating massive infrastructural issues across the country, as well as taking the lives of 661 people and injuring some 27,700 more. The quake triggered landslides and spurred the Pacific Tsunami Warning Center to issue a warning for the nearby Pacific coastline. 
In …
Visit the Ecuador Earthquake page
---
Airlink AirBridge for Ebola Response
The Ebola outbreak affecting Liberia, Guinea, Sierra Leone, and Nigeria was largest in history and the first in West Africa. During the main outbreak (Spring 2014 to Fall 2015), the virus spread to 28,465 people and took the lives of over 11,000. Sierra Leone and Liberia were especially hard hit, with high concentrations in urban areas.
The scarcity of medical supplies proved to be a major ba…
Visit the Airlink AirBridge for Ebola Response page
---
Medical Aid for Ebola Crisis
The Ebola outbreak affecting Liberia, Guinea, Sierra Leone, and Nigeria is largest in history and the first in West Africa. The virus has spread to 1850 people and has taken the lives of over 1000. Sierra Leone (730 confirmed cases, 315 fatalities) and Liberia (599 confirmed cases, 323 fatalities) are the countries most affected by this epidemic, with high concentrations in urban areas.
The sca…
Visit the Medical Aid for Ebola Crisis page
---