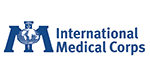 International Medical Corps
International Medical Corps is a global, humanitarian, nonprofit organization dedicated to saving lives and relieving suffering through health care training and relief and development programs. Established in 1984 by volunteer doctors and nurses, International Medical Corps is a private, voluntary, nonpolitical, nonsectarian organization. Its mission is to improve the quality of life through health interventions and related activities that build local capacity in underserved communities worldwide. By offering training and health care to local populations and medical assistance to people at highest risk, and with the flexibility to respond rapidly to emergency situations, International Medical Corps rehabilitates devastated health care systems and helps bring them back to self-reliance.

International Medical Corps Worldwide is a global humanitarian alliance that comprises the resources and capabilities of two independent affiliate organizations, International Medical Corps and International Medical Corps UK. Together, our mission is to save lives and relieve suffering through the provision of health care and training. With headquarters in the United States and the United Kingdom respectively, we collaborate to maximize resources for the delivery of appropriate relief and development activities.
visit the International Medical Corps website
---
Missions
Hurricanes Irma and Maria
As food and water shortages, lack of medical supplies, and damaged infrastructure plagued Caribbean communities hard hit by hurricanes Irma and Maria, Airlink, LIFT, Patient Airlift Services (PALS) and Rescue Global teamed up to deliver large amounts of humanitarian aid to those in need.
Operation Airlift Caribbean partnership worked with commercial air carriers, general a…
Visit the Hurricanes Irma and Maria page
---
Hurricane Matthew
Beginning in the days before the hurricane, Airlink experienced high demand for transportation assistance from its NGO network, as both relief personnel and aid materials were needed to address the crisis. Together with Avianca, Copa Airlines, JetBlue Airways, and United Airlines, Airlink helped deploy 39 personnel on Disaster Assistance Response Teams (DARTs), groups of relief personne…
Visit the Hurricane Matthew page
---
Ecuador Earthquake
Overview
A 7.8 magnitude earthquake struck Ecuador on the evening of April 16, knocking down buildings, destroying roads, and creating massive infrastructural issues across the country, as well as taking the lives of 661 people and injuring some 27,700 more. The quake triggered landslides and spurred the Pacific Tsunami Warning Center to issue a warning for the nearby Pacific coastline. 
In …
Visit the Ecuador Earthquake page
---
Kumamoto Earthquakes
On the evening of April 14, 2016, a 6.7 magnitude earthquake struck the island of Kyushi. A second, larger 7.3 magnitude earthquake hit the island less than 48 hours later on April 16. At least 49 people perished as a result of the earthquake, however the largest impact has been on access to shelter and infrastructure, with at least 69,000 people initially displaced, more than 129,000 household…
Visit the Kumamoto Earthquakes page
---
WASH for Refugee Relief
…
Visit the WASH for Refugee Relief page
---
Airlink AirBridge for Ebola Response
The Ebola outbreak affecting Liberia, Guinea, Sierra Leone, and Nigeria was largest in history and the first in West Africa. During the main outbreak (Spring 2014 to Fall 2015), the virus spread to 28,465 people and took the lives of over 11,000. Sierra Leone and Liberia were especially hard hit, with high concentrations in urban areas.
The scarcity of medical supplies proved to be a major ba…
Visit the Airlink AirBridge for Ebola Response page
---
Medical Aid in Ecuador
International Medical Corps continues to respond and meet the most urgent needs of communities as they recover and rebuild.
To respond rapidly to health needs resulting from the quake, International Medical Corps immediately deployed a doctor volunteer—a long-time first responder with International Medical Corps and with experience working in Ecuador—to Manabí Province, one of the worst affe…
Visit the Medical Aid in Ecuador page
---