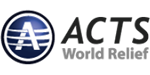 ACTS World Relief
ACTS (Active Communities That Serve) World Relief is unique in our means of providing humanitarian, disaster relief services. We specialize in disaster-relief training in the United States as well as abroad to empower others in "Growing Through the Serving." We add a balance of adult First Response Teams and local community volunteers as a way to unite our communities in help, hope and healing.  ACTS World Relief unites, equips and deploys human resources and rapid emergency response assets in emergency and community service, and in doing so, demonstrates the compassion of God, regardless of race or religion.
visit the ACTS World Relief website
---
Missions
Severe Earthquake Response
On April 25, a magnitude 7.8 earthquake struck central Nepal, followed by a second 7.3 magnitude earthquake on May 12, with aftershocks in the range of magnitudes 5.6 to 6.3 in the hours following the second quake. Airlink is currently helping its NGO and airline partners respond.
As of May 12, the death toll has climbed to more than 9,000 people, and more than 23,000 were injured. The UN es…
Visit the Severe Earthquake Response page
---
Emergency Response Training
Anchorage, Alaska is a major strategic point for disaster response and military operations with respect to Russia and Eastern Europe. The state of Alaska hosts a yearly Alaska Shield Training Session both in honor of their 1964 earthquake, the largest in US history, and in order to stay informed of the most up-to-date response practices so that all agencies can respond when necessary in an effici…
Visit the Emergency Response Training page
---
Surgical Response
After Typhoon Haiyan hit the Philippines on November 8, 2013, ACTS World Relief, in conjunction with GR3, Inc. identified key areas of devastation in Tacloban and Cebu that needed immediate relief, including debris-cleaning, emergency medical response and opening the hospitals that were closed in each area. The ACTS World Relief first response team worked to secure networking and establish logist…
Visit the Surgical Response page
---