---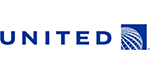 United
United Airlines and United Express operate an average of more than 5,200 flights a day to 374 airports across six continents. In 2013, United and United Express operated nearly two million flights carrying 139 million customers. With hubs in Chicago, Denver, Houston, Los Angeles, Newark, San Francisco and Washington, D.C., United operates more than 700 mainline aircraft and, in 2014, will take delivery of 35 new Boeing aircraft, including the 787-9 as the North American launch customer, and will welcome 32 new Embraer 175 aircraft to United Express. The airline is a founding member of Star Alliance, which provides service to 192 countries via 27 member airlines. More than 85,000 United employees reside in every U.S. state and in countries around the world. For more information, visit united.com, follow @United on Twitter or connect on Facebook. The common stock of United's parent, United Continental Holdings, Inc., is traded on the NYSE under the symbol UAL.
visit the United website
---
Missions
Cyclone Gita
Airlink and its partners are responding to medical needs in American Samoa in the wake of Tropical Cyclone Gita.
Tropical Cyclone Gita passed by American Samoa on February 10, 2018. The storm caused flooding and damages in American Samoa, Tonga, and later in New Zealand as an ex-cyclone. Widespread damage, power outages, and potable water issues in American Samoa prompted immediate medical …
Visit the Cyclone Gita page
Syrian Refugee Medical Support
…
Visit the Syrian Refugee Medical Support page
California Wildfires
California officials say 42 people have lost their lives as wildfires continue to rage through Northern California. More than 200,000 acres of land and thousands of structures have burned in Napa, Lake, Sonoma, Mendocino, Butte and Solano counties.
As first responders are making progress containing the fires, we have begun transporting relief workers and volunteers to impacted communities. Thro…
Visit the California Wildfires page
Hurricanes Irma and Maria
As food and water shortages, lack of medical supplies, and damaged infrastructure plagued Caribbean communities hard hit by hurricanes Irma and Maria, Airlink, LIFT, Patient Airlift Services (PALS) and Rescue Global teamed up to deliver large amounts of humanitarian aid to those in need.
Operation Airlift Caribbean partnership worked with commercial air carriers, general a…
Visit the Hurricanes Irma and Maria page
Hurricane Harvey
Hurricane Harvey, the largest storm to make landfall in Texas since 1961, has left widespread damage across 50 of the state's counties. Houston and the surrounding areas received a record 51 inches of rain causing catastrophic flooding. Water rescues are ongoing as an estimated 300,000 people are in need of temporary shelter. Millions of people along the Gulf Coast have been impacted. 
Focus …
Visit the Hurricane Harvey page
Sierra Leone Mudslides
Three days of heavy rains in Sierra Leone triggered flash floods and landslides in and around the capital of Freetown on 14 August. The disaster resulted in more than 1,000 fatalities and the displacement of 10,000 people. 
With the help of discounted air transport from Brussels Airlines, Airlink supported the response of Rise Against Hunger and Waves for Water, who provided food aid and access…
Visit the Sierra Leone Mudslides page
South Asia Floods
Torrential monsoon rains this summer caused flooding and landslides in Bangladesh, India and Nepal. The UN Office for the Coordination of Humanitarian Affairs (OCHA) states nearly 41 million people in three Asian countries were affected.
Tens of thousands of houses, schools and hospitals were destroyed and scores of people have been displaced. Damage to roads, bridges, railways and airports ren…
Visit the South Asia Floods page
Midwest Flood Response
Heavy rains resulted in major flooding in Kenosha, Racine, and Walworth Counties in southern Wisconsin beginning July 12. Rivers have swollen to record levels, causing residential and business areas to experience high water levels and compromising the electrical infrastructure of the area. Both Wisconsin and Illinois Governors have declared a State of Emergency, and at least 6,800 buildings t…
Visit the Midwest Flood Response page
Peru Flooding Response
Heavy rainfall as a result of an abnormal El Nino pattern in the southeast Pacific throughout January, February, and March has caused widespread flooding and landslides throughout northwestern South America, particularly affecting northwestern Peru. As of March 31, the flooding has killed 92 people and displaced tens of thousands, as well as damaging or destroying at least 29,000 homes and displ…
Visit the Peru Flooding Response page
Tornado Recovery
On February 7, 2017, at least 6 tornadoes touched down in New Orleans, Louisiana, leaving in their wake EF-3 damage in an area that had never completely recovered from Hurricane Katrina - nearly 12 years before. The outbreak caused widespread power outages, destroyed hundreds of homes, and caused damage to thousands more.
Team Rubicon's US office quickly responded, deploying more than 120 volun…
Visit the Tornado Recovery page
Hurricane Matthew
Beginning in the days before the hurricane, Airlink experienced high demand for transportation assistance from its NGO network, as both relief personnel and aid materials were needed to address the crisis. Together with Avianca, Copa Airlines, JetBlue Airways, and United Airlines, Airlink helped deploy 39 personnel on Disaster Assistance Response Teams (DARTs), groups of relief personne…
Visit the Hurricane Matthew page
Louisiana Flooding
On August 12, 2016, a powerful, slow moving storm hit Louisiana and parts of the Gulf Coast, causing devastating flooding. Some areas saw more than 30 inches of rain, and entire communities - some of which had never seen a flood before - were inundated. The flooding killed 13 people and left over 144,000 people in need of individual assistance. FEMA has approved over $640,000,000 in aid to regis…
Visit the Louisiana Flooding page
Flooding Recovery
On June 23-25, the state of West Virginia experienced massive flooding due to torrential rains, in the worst flooding event the state has seen in 30 years. On June 26, the President signed a federal disaster declaration, escalating the locally-declared state of emergency in 44 counties of WV.  The flooding claimed the lives of more than 25 people. Thousands of homes were severely damaged or de…
Visit the Flooding Recovery page
Wildfire Recovery
On May 1, 2016, a wildfire began southwest of Ft. McMurray, Alberta, Canada. In the days that followed, the fire swept through the community, destroying more than 2,400 homes and buildings and forcing residents to flee in the biggest wildfire evacuation in Albertan history, spanning more than 1.4 million acres. The fire spread across northern Alberta and into Saskatchewan, impacting forested a…
Visit the Wildfire Recovery page
Ecuador Earthquake
Overview
A 7.8 magnitude earthquake struck Ecuador on the evening of April 16, knocking down buildings, destroying roads, and creating massive infrastructural issues across the country, as well as taking the lives of 661 people and injuring some 27,700 more. The quake triggered landslides and spurred the Pacific Tsunami Warning Center to issue a warning for the nearby Pacific coastline. 
In …
Visit the Ecuador Earthquake page
Kumamoto Earthquakes
On the evening of April 14, 2016, a 6.7 magnitude earthquake struck the island of Kyushi. A second, larger 7.3 magnitude earthquake hit the island less than 48 hours later on April 16. At least 49 people perished as a result of the earthquake, however the largest impact has been on access to shelter and infrastructure, with at least 69,000 people initially displaced, more than 129,000 household…
Visit the Kumamoto Earthquakes page
Cyclone Winston Response
On 20 and 21 February Category 5 Severe Tropical Cyclone Winston cut a path of destruction across Fiji's islands, blowing off roofs, bringing down trees and power lines, and flooding rivers. The cyclone is estimated to be one of the most severe ever to hit the South Pacific; 42 people were killed and at least 130 were injured in the storm. Whole villages were destroyed on the island of Koro, wher…
Visit the Cyclone Winston Response page
Flood Relief
On the weekend of October 3, 2015, South Carolina was hit with historic and catastrophic flooding in the wake of Hurricane Joaquin. The storm hit the state at Category 2 strength, dumping more than two feet of rain, and buckled buildings and roads and closed major US highways. In total, the storm killed at least 12 people in the state. In the aftermath, approximately 40,000 people are without wa…
Visit the Flood Relief page
Typhoon Soudelor Response
On 5th August 2015, Typhoon Soudelor made landfall on Saipan, CNMI, (Commonwealth of Northern Mariana Islands), displacing thousands. FEMA and the American Red Cross indicate 1070 homes were completely destroyed and many thousands more were damaged. The electrical grid was destroyed and required a complete rebuild. The fresh water distribution was ompromised by inoperable pumps reliant on electri…
Visit the Typhoon Soudelor Response page
Community Clean-up & Rebuild
On May 24, 2015, Southern and Central Texas experienced numerous large thunderstorms, which increased precipitation over an already saturated area, causing widespread flooding and infrastructural damage. At one point, 11" of rain fell in a 24hr period, leading to massive flash flooding. In Hays County, Texas, the Blanco and San Marcos Rivers were quickly overwhelmed and flooded populated areas. T…
Visit the Community Clean-up & Rebuild page
Severe Earthquake Response
On April 25, a magnitude 7.8 earthquake struck central Nepal, followed by a second 7.3 magnitude earthquake on May 12, with aftershocks in the range of magnitudes 5.6 to 6.3 in the hours following the second quake. Airlink is currently helping its NGO and airline partners respond.
As of May 12, the death toll has climbed to more than 9,000 people, and more than 23,000 were injured. The UN es…
Visit the Severe Earthquake Response page
Cyclone Rapid Response
Airlink is currently helping its partners respond to Cyclone Pam, which hit the island nation of Vanuatu on Friday, March 13. While the full extent of the damage caused by this Category 5 storm is still being assessed, reports suggest that at least 11 people have died, +166,000 were affected and are in urgent need food assistance, at least 75,000 are homeless and 110,000 remain without potable …
Visit the Cyclone Rapid Response page
Severe Flooding Response
During January 2015, the southeast African country of Malawi experienced above average rainfall as a result of a number of cyclones in the region. The situation on the ground in Malawi is dire. Reports suggest that 1.15 million people have been affected by the floods, of which 336,000 people displaced, 104 have died, and 172 are unaccounted for. Many homes have been made uninhabitable, crops ha…
Visit the Severe Flooding Response page
Typhoon Hagupit Response
Typhoon Hagupit, made landfall on the province Eastern Samar, Philippines on Saturday, December 6, and is continuing its course through Manila. The typhoon's maximum sustained 1-minute wind speed was 180 mph, making it one of the most powerful typhoons of 2014. While the storm has now been downgraded from a Category 5 typhoon to a Category 3 tropical cyclone, it has still caused widespread damag…
Visit the Typhoon Hagupit Response page
Cyclone Relief
On October 12, 2014, Cyclone Hudhud made landfall near Visakhapatnam, Andhra Pradesh, India, causing widespread devastation to the area (estimated USD $11,000,000,000 in damage). The cyclone reached wind speeds of 115 mph (185 kph), taking the lives of 46, injuring 24 more, and laying waste to more than 4.85 billion pounds (2.2 million tonnes) of grain and foodstuffs grown there. Reports from th…
Visit the Cyclone Relief page
Orphan Evacuation Planning
Ukraine is in a state of civil war; schisms between Kyiv and pro-Russia separatists in the eastern and southeastern oblasts (provinces) have resulted in the outbreak of hostilities. 40,000 orphaned children are in harm's way in the eastern regions – predominantly Donetsk and Luhansk – due to dangers ranging from diminished supplies and medical care to renegade militias and artillery barrages. The…
Visit the Orphan Evacuation Planning page
Spring Tornado Relief
On Sunday, April 27, 2014 a severe storm system  moved through Arkansas. The storm system proceeded to generate multiple tornados, hail, high winds, and heavy rains. Widespread damage was experienced across the state and thousands of people were left without power.
One particular tornado that touched down was estimated to be a half-mile wide and of EF-3 strength. This storm cut through central …
Visit the Spring Tornado Relief page
Rebuilding Communities
The Philippines suffered two consecutive catastrophes that devastated the country at the end 2013. A 7.2 earthquake struck the island of Bohol in mid- October, making it the deadliest earthquake in the Philippines in over two decades. Then, less than a month later, Super Typhoon Haiyan made landfall on the neighboring island of Leyte on November 8th and was one of the most dangerous typhoons on r…
Visit the Rebuilding Communities page
Emergency Medical Relief
On November 8, Typhoon Haiyan, one of the most powerful storms on record, tore through the Philippines. Key infrastructures, such as hospitals, clinics, and sanitation systems, were also destroyed, making it difficult for local medical personnel to meet the great needs of the community. In total, over 6,000 people lost their lives and nearly 30,000 more were injured, leaving many throughout the c…
Visit the Emergency Medical Relief page
Rapid Response and Relief
On November 8th 2013, Typhoon Haiyan tore through the Philippines affecting over 9 million individuals and displacing over 600,000, destroying telecommunications infrastructure, medical facilities, and many critical services. The city of Tacloban in Leyte, Philippines served as a central coordination point for the relief mission but detailed assessment of damage was not available initially due …
Visit the Rapid Response and Relief page
Typhoon First Response
Typhoon Haiyan, locally known as "Yolanda," hit the Philippines on November 8, 2013.  Rescue Global monitored the situation and determined that ongoing need would result in an increased need for reconnaissance and multi-agency command support. As a result, Rescue Global deployed for a 6 week period using their own King Air 90c aircraft. Geographical isolation proved to be a very large obstacle…
Visit the Typhoon First Response page
Surgical Response
After Typhoon Haiyan hit the Philippines on November 8, 2013, ACTS World Relief, in conjunction with GR3, Inc. identified key areas of devastation in Tacloban and Cebu that needed immediate relief, including debris-cleaning, emergency medical response and opening the hospitals that were closed in each area. The ACTS World Relief first response team worked to secure networking and establish logist…
Visit the Surgical Response page
Earthquake Recovery in Ecuador
Our Response Team is on the ground in the Bahia de Caraquez area of Manabi Province with an additional wave of skilled personnel on the way to focus on specific needs. The greatest damages and largest number of affected populations are reported in the province of Manabí, with 596 deaths and 21,130 in shelters. In addition to the unprecedented damage to Ecuador's infrastructure, buildings have be…
Visit the Earthquake Recovery in Ecuador page
Medical Relief in Ecuador
AmeriCares is working with local health care partners and medical outreach teams in the region to deliver and distribute medicine and relief supplies for survivors. Emergency shipments of 32 tons of medicine, medical supplies and family emergency kits from AmeriCares have arrived in Ecuador. These shipments are helping to resupply hospitals and clinics damaged by the earthquake.
In addition, th…
Visit the Medical Relief in Ecuador page
Medical Aid in Ecuador
International Medical Corps continues to respond and meet the most urgent needs of communities as they recover and rebuild.
To respond rapidly to health needs resulting from the quake, International Medical Corps immediately deployed a doctor volunteer—a long-time first responder with International Medical Corps and with experience working in Ecuador—to Manabí Province, one of the worst affe…
Visit the Medical Aid in Ecuador page
WASH Support in Ecuador
Thanks to Avianca and United Airlines, the Waves for Water disaster team was able to respond quickly - within just 48 hours of the quake. Since the organization's initial deployment, 3 additional teams have been able to travel from the US to Ecuador bringing even more filters on various flights and providing critical access to clean water in the most severely affected areas, where the most dama…
Visit the WASH Support in Ecuador page