---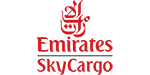 Emirates Skycargo
With Dubai as its hub, Emirates SkyCargo is uniquely placed to help you do business faster and more efficiently. From our strategic location at the crossroads of Europe, Africa and Asia - you can reach more than one and a half billion customers in less than eight hours.
With multiple destinations and serviced by one of the world's youngest wide-bodied fleets, Emirates Skycargo connects people with the things that are important to them.
Emirates' 227-strong fleet is one of the youngest in the skies, now serving 145 destinations in 83 countries on six continents. In June 2014, Emirates SkyCargo took delivery of its eleventh Boeing 777F, bringing its fleet to 13 freighters (two Boeing 747-400ERF and eleven 777Fs). Scheduled freighter services now operate to 50 destinations in 43 countries.
visit the Emirates Skycargo website
---
Missions
Toys for Refugee Children
The UNHCR reports that there are approximately 620,500 people living as refugees in Jordan, and more than half are under the age of 18. In northern Jordan's Azraq camp, there are over 7,000 Syrian children, many of whom are traumatized by war, arriving in the camp with nothing. In 2013, the UNHCR requested Aviation Without Borders and the Scout and Guide Fellowship to assist with the organization…
Visit the Toys for Refugee Children page
Fighting Malnutrition
In many countries throughout Africa, malnutrition is a major problem; in addition to effects on health, it can cause children to miss school due to lack of strength and inability to concentrate, putting them at a severe disadvantage. For children with HIV/AIDS, malnutrition can be a death sentence, leaving them open to opportunistic infections, in addition to effects on livelihood and education.
…
Visit the Fighting Malnutrition page