---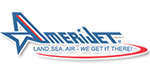 AmeriJet
Amerijet International, Inc. is full-service multi-modal transportation and logistics provider, offering U.S. Domestic and International, scheduled all-cargo transport via land, sea, and air. Amerijet connects over 30 major cities in the U.S. with more than 600 destinations worldwide, providing global transportation solutions for customers throughout the Americas, Mexico, the Caribbean, Europe, Asia, and the Middle East.
For additional information, visit Amerijet on the web at www.amerijet.com. 
visit the AmeriJet website
---
Missions
Hurricanes Irma and Maria
As food and water shortages, lack of medical supplies, and damaged infrastructure plagued Caribbean communities hard hit by hurricanes Irma and Maria, Airlink, LIFT, Patient Airlift Services (PALS) and Rescue Global teamed up to deliver large amounts of humanitarian aid to those in need.
Operation Airlift Caribbean partnership worked with commercial air carriers, general a…
Visit the Hurricanes Irma and Maria page
Seeds for Haiti
On October 4, 2016, Hurricane Matthew made landfall on Haiti, destroying homes, taking the lives of hundreds, and wiping out more than 85% of crops in southern Haiti. While NGOs have worked to address the immediate needs of those affected, including shelter, food, and health resources, resiliency remains a high-priority as the international community assists Haiti in moving from response to recov…
Visit the Seeds for Haiti page
Hurricane Matthew
Beginning in the days before the hurricane, Airlink experienced high demand for transportation assistance from its NGO network, as both relief personnel and aid materials were needed to address the crisis. Together with Avianca, Copa Airlines, JetBlue Airways, and United Airlines, Airlink helped deploy 39 personnel on Disaster Assistance Response Teams (DARTs), groups of relief personne…
Visit the Hurricane Matthew page
Relief Shelter
In the aftermath of the EF5 tornado in Oklahoma, a ShelterBox Response Team was sent in to assess if they could assist with providing additional shelter.  It was then determined that there was a need for sturdy disaster-grade relief tents.  ShelterBox's tents are specifically designed to withstand 120 kilometer winds, were larger in size and would offer greater comfort in the 95+ degrees that Okl…
Visit the Relief Shelter page
Earthquake Relief
On January 12, 2010 at 5:22pm local time, a 7.0 magnitude earthquake the highly populated area of Department Ouest, Haiti, approximately 16 miles from Port au Prince. By January 24, more than 50 aftershocks measuring a magnitude of 4.5 or greater had hit the area. Over the course of those 12 days, the human impact was great; the UN and USAID estimates that more than 230,000 people were killed, 30…
Visit the Earthquake Relief page