---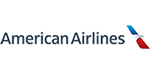 American Airlines
American Airlines Group (NASDAQ: AAL) is the holding company for American Airlines and US Airways. Together with wholly owned and third-party regional carriers operating as American Eagle and US Airways Express, the airlines operate an average of nearly 6,700 flights per day to 339 destinations in 54 countries from its hubs in Charlotte, Chicago, Dallas/Fort Worth, Los Angeles, Miami, New York, Philadelphia, Phoenix andWashington, D.C. The American Airlines AAdvantage and US Airways Dividend Miles programs allow members to earn miles for travel, vacation packages, car rentals, hotel stays and everyday purchases. Members of both programs can redeem miles for tickets as well as upgrades to First Class and Business Class. In addition, AAdvantage members can redeem miles for vacation packages, car rentals, hotel stays and retail products. American is a founding member of the oneworld alliance, whose members and members-elect serve nearly 1,000 destinations with 14,250 daily flights to 150 countries. Connect with American on Twitter @AmericanAir and Facebook.com/AmericanAirlines and follow US Airways on Twitter @USAirways.
visit the American Airlines website
---
Missions
Hurricanes Irma and Maria
As food and water shortages, lack of medical supplies, and damaged infrastructure plagued Caribbean communities hard hit by hurricanes Irma and Maria, Airlink, LIFT, Patient Airlift Services (PALS) and Rescue Global teamed up to deliver large amounts of humanitarian aid to those in need.
Operation Airlift Caribbean partnership worked with commercial air carriers, general a…
Visit the Hurricanes Irma and Maria page
Hurricane Harvey
Hurricane Harvey, the largest storm to make landfall in Texas since 1961, has left widespread damage across 50 of the state's counties. Houston and the surrounding areas received a record 51 inches of rain causing catastrophic flooding. Water rescues are ongoing as an estimated 300,000 people are in need of temporary shelter. Millions of people along the Gulf Coast have been impacted. 
Focus …
Visit the Hurricane Harvey page
Louisiana Flooding
On August 12, 2016, a powerful, slow moving storm hit Louisiana and parts of the Gulf Coast, causing devastating flooding. Some areas saw more than 30 inches of rain, and entire communities - some of which had never seen a flood before - were inundated. The flooding killed 13 people and left over 144,000 people in need of individual assistance. FEMA has approved over $640,000,000 in aid to regis…
Visit the Louisiana Flooding page
Oklahoma Tornado Response
On May 19th and 20th, 2013, 9 tornadoes hit Oklahoma City and the surrounding areas. One of these, approximately 2 miles wide and gusting at 210 mph, cut directly through the town of Moore, OK. Initial estimates indicated at least 8,000 structures had been damaged or destroyed, 25 people lost their lives, and 377 more were injured as a result of the tornadoes. There was an extensive need for …
Visit the Oklahoma Tornado Response page
Rebuilding Housing
In May of 2013, NECHAMA – Jewish Response to Disaster responded to the devastating tornadoes that hit Central Oklahoma. Thanks to two donated flights from American Airlines, NECHAMA's essential staff was able to get on the ground quickly to begin assessing damage and coordinating volunteers.
Within days, they were at work bringing comfort to survivors during a difficult time and helping homeown…
Visit the Rebuilding Housing page
Earthquake Relief
On January 12, 2010 at 5:22pm local time, a 7.0 magnitude earthquake the highly populated area of Department Ouest, Haiti, approximately 16 miles from Port au Prince. By January 24, more than 50 aftershocks measuring a magnitude of 4.5 or greater had hit the area. Over the course of those 12 days, the human impact was great; the UN and USAID estimates that more than 230,000 people were killed, 30…
Visit the Earthquake Relief page